Barrow Oicunn
Biographical information
Homeworld
Born
Physical description
Species
Gender
Height

5'8" (1.77 m)

Hair Color

Brown

Eye Color

Blue

Skin Color

Light

Family information
Family

Barrow Oicunn's father (father)
Barrow Oicunn's mother (mother)


Political information
Era(s)
Affiliation
Barrow Oicunn was human male who served the Galactic Empire as an officer in the Imperial Navy.
Biography
Edit
Early life
Edit
Personality and traits
Edit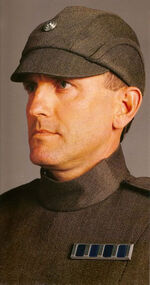 Loyal to a fault, Barrow Oicunn served his superiors faithfully, regardless of personal feelings. He adapted to restrictive doctrines while serving in the Humbarine Sector defense fleet, producing tactics that were seen as "inspired." As he rose through the Imperial ranks, Oicunn was looked upon as a model soldier, who showed an ideal mix of loyalty towards his ruined homeworld, and fidelity to the Galactic Empire.
His faith in the Empire was shaken by the devastating loss of Humbarine, but he continued to fight the New Republic. Oicunn believed that the Empire, in its current incarnation, would not be able to defend its member worlds effectively, and so he welcomed the Bastion Accords to end the Galactic Civil War in 2019.